wmsmusic
This user hasn't shared any profile information
Posts by wmsmusic
0
Congratulations to the following students who will be placed in Vocal Motion (the Advanced/Show Choir) for the 2017-2018 school year.  I am SO proud of all 100 students who auditioned.  It is extremely difficult selecting students for this group, but I look forward to working with singers in all of our choral ensembles next year!
Boys:
Luke Dilick (8)
Isaac Eaton (8)
Kyle Emgenbroich (8)
Anders Graham (8)
Magwire Graybill (8)
Austin McClure (8)
Ritvik Mishra (8)
Case Reynolds (7)
Steele Staley (8)
Sawyer Strong (7)
Sam Vance (8)
Cole Wolfe (8)
Girls:
Grace Ambler (8)
Averie Argir (8)
Olivia Bell (7)
Shay Berry (8)
Ava Boedeker (8)
Julia Bohn (8)
Elizabeth Brame (8)
Riley Childs (8)
Abigail Clark (7)
Avery Clark (7)
Lucy Collard (7)
Selia Crouch (8)
Natalie Deck (8)
Isabella Doss (8)
Loryn Fry (8)
Lauren Goldberg (8)
Cailin Gregory (8)
Sydney Harris (8)
Kayla Heiny (8)
Ella Hiple (8)
Alayna Miller (8)
Emma Novak (8)
Brianna Pastran-Pacheco (8)
Serena Pieters (8)
Lana Reinking (8)
Audrey Riley (8)
Lauren Ryan (8)
Alyssa Schwartz (8)
Tia Wallace (8)
Ella Wettschurack (8)
Audrey Young (8)
Mehreen Zakaria (8)
0
Congratulations to the following group of students who were placed in the 2016-2017 Advanced/Show Choir, Vocal Motion.  A huge thank you to all who auditioned!  The auditions were SO close this year and decisions were very difficult.
Girls:
Bedusek, A. (8)
Burge, K. (8)
Clark, J. (8)
Compton, A. (8)
Connor, G. (8)
Cooper, M. (8)
Coots, M. (8)
Curtis, A. (8)
Denney, G. (8)
Fekete, G. (8)
Fox, B. (8)
Gehen, B. (8)
Gray, M. (8)
Hampton, E. (8)
Harvey, L. (8)
Haugk, M. (8)
Heck, A. (8)
Helms, J. (8)
Huffman, E. (8)
Kemper, K. (8)
Maymon, C. (8)
Martin, A. (8)
Pham, S. (8)
Reed, E. (8)
Reynolds, E. (8)
Rhodes, E. (8)
Tibbets, E. (8)
Wasson, M. (8)
Willis, S. (8)
Argir, A. (7)
Crouch, S. (7)
Hiple, E. (7)
Miller, A. (7)
Novak, E. (8)
Riley, A. (7)
Schwartz, A. (7)
Wettschurack, E. (7)
Boys:
Housefield, C. (8)
Koning, K. (8)
Miller, B. (8)
Shaw, T. (8)
Strong, L. (8)
Yoakum, G. (8)
Emgenbroich, K. (7)
Graham, A. (7)
Vance, S. (7)
Wolfe, C. (7)
0
Thank you to all who auditioned for the Advanced/Show Choir, Vocal Motion.  If you were not placed in the group, please, please, please still sign up for choir!  We still need your voice and leadership in our program!  For those who were placed in the group, congratulations!  I am looking forward to a great year next year!
Mrs. Smith
Girls:
Anya B. – 8
Ashton C.– 8
Delaney H. – 8
Eden J. – 8
Elie A. – 8
Kylar K. – 8
Julie H. – 8
Makayla M. – 8
McKenna E.  – 8
Megan P. – 8
Morgan G. – 8
Natalie P.  – 8
NaTaya P. – 8
Olivia W. – 8
Rachel C. – 8
Samantha L. – 8
Sophia N.  – 8
Abbey C. – 7
Cassidy M. – 7
Elayna R. – 7
Ellye T. – 7
Emily R. – 7
Ella H. – 7
Grace C. – 7
Grace D. – 7
Julia C. – 7
Kendra B. – 7
Mairin W. – 7
Mallory C. – 7
Boys:
Aiden W. – 8
Alan O. – 8
Gavin D. – 8
Traig M. – 8
Tyler J. – 8
Connor H.– 7
Ty S. – 7
**None of the students who attended choreography callbacks have the same first name and last initial, so there should be no discrepancies.
0
If you have been at school this past week, you know that I have been playing a number of videos in your daily school announcements. If you missed any, want to show them to your parents, or just rewatch them, here they are!
Day 1 Video for SIXTH GRADERS:
Day 1 Video for SEVENTH GRADERS:
Day 2 Video:
Day 3 Video: ERROR ON VIDEO: Callbacks are on WEDNESDAY, April 29, not TUESDAY
0
Do you love to sing and perform?  The Westfield Middle School choral program is holding auditions for the 2015-2016 Advanced/Show Choir "Vocal Motion." Pick up an audition packet from your music teacher at WIS or Mrs. Mustaklem at WMS.  If you prefer, download one from the link below!  Vocal auditions are submitted via video through a secure link to Mrs. Smith (Choral Director on maternity leave right now). You can do the entire audition from your phone, iPad, or iPod if have video recording and an internet browser on your device.  It's really easy!  Follow the instructions in the packet.
*Note: It is EXTREMELY important that you follow the instructions in the packet and STATE YOUR NAME at the beginning of your video.  If you do not do so, I will most likely have no idea who you are!  Also, make sure you sing "Happy Birthday" after your selected song.  
After vocal audition videos are viewed, Mrs. Smith will invite students who seem like they may be a good fit to attend choreography "callbacks."  This is a short dance audition that will be held as a large group in the choir room at the Middle School on April 29.  Students will be notified via a letter at school if they are invited to attend the callback.
Important Audition Dates:
April 21: Video Submissions are Due
April 21: Audition Forms are due to your music teacher
April 29: Choreography Callbacks
May 1: Audition results posted right here on the blog!
0
Thank you so much to all of the students who auditioned for next year's Vocal Motion.  There were so many impressive voices!  Our choral program is growing so much that we had 149 students audition for 46 spots.  Next year's group will be very heavy on 8th grade students.  If you were not placed in Vocal Motion for next year, I certainly hope you will keep singing.  There are many challenges in each of our groups.  If you will be in 8th grade next year, don't forget that continuing singing creates a seamless transition into our high school ensembles.
If you are wanting a challenge this year, don't forget about our school's talent show on April 25!  Mrs. Rivers, Mrs. Safford, and Miss Johnson will be putting information about auditions out in the coming month.  In addition, our Visual and Performing Arts programs at WMS and WHS will be putting on our first "arts open house" called Rock the Arts on Saturday, April 19th from 1-4 PM.  Some students may be asked if they would like to perform at this event (held at WHS).
Thank you again for all of the work you put into auditions!
Mrs. Smith
Vocal Motion 2014-2015 (in no particular order)
Girls:
S. Hamlet (8)
I. Miller (8)
B. Welch (8)
N. Socrates (8)
L. Partlow (8)
C. Parisi (8)
E. Rastatter (8)
A. Sullivan (8)
E. Bays (8)
D. Martin (8)
E. Walpole (8)
L. Jennings (8)
C. Fekete (8)
S. Baker (8)
J. Flannery (8)
C. Driver (8)
K. Mick (8)
E. Walton (8)
C. Kern (8)
E. Stephan (8)
S. Green (8)
A. Budd (8)
A. Nguyen (8)
N. Penry (7)
S. Novak (7)
A. Burke (7)
M. Merrill (7)
E. Anania (7)
O. Weber (7)
A. Colip (7)
M. Pietras (7)
Boys: 
M. Mirande (8)
N. Brazus (8)
J. Espey (8)
C. Caldwell (8)
K. Biggerstaff (8)
P. Ryan (8)
A. Wessel (8)
J. Stegner (8)
S. Novak (8)
R. Wentz (8)
C. McLaren (8)
C. Frye (8)
G. Dirks (7)
A. Williams (7)
T. McPhail (7)
0
Holiday Choral Concert Dress Rehearsal
Monday, December 16th
Pick-Up Times Below (Pick-Up is in front of WHS)
Year-Long Choir & Women's Choir 2:30-4:00
Show Choir 2:30-4:30
*Students will walk across the street to WHS as a group after school.
WHS/WMS District Holiday Choral Concert
Tuesday, December 17th
7 PM, WHS Auditorium
WMS students are to report to the WHS LGI at 6:30 PM
*Arrive early as seating will be limited even with students not sitting in the auditorium for this concert
0

I am thrilled to announce that the WMS Choirs are partnering with Maple Park Retirement Village (next to WHS) AGAIN this holiday season!  As some of you may remember, we began our community partnership last year and provided 40 residents with small holiday gifts.  This is a great opportunity for our students and families to come together in an effort to learn a little bit about community service, charity, and giving to others.  Most of the residents at Maple Park are there on Medicaid and the Village receives no additional assistance for the holiday season.  That's where we step in!
There are 2 holiday trees in the choir room that will be filled with ornaments (beginning tomorrow, Tuesday) containing the names and needs of 40 residents at Maple Park. Their needs are often very small, ranging from sweatshirts and socks to body wash, lotion, and bracelets. If you have it in your heart to help a Westfield resident who would really appreciate a small gift this holiday season, please e-mail me (I will send you a resident's info) or have your student pull an ornament from our tree!  The tree ornaments will state exactly the person's name and a few ideas for gifts for them.  You do not need to purchase every item on their wish list. I always encourage students to collaborate with their friends and adopt a resident together so that each student is taking on a smaller financial burden, but that the resident is taken care of nicely!
Don't want to adopt a resident?  Please consider donating items to their BINGO BOX.  Residents enjoy playing bingo weekly and the most exciting part for them is winning fun prizes.  Here are "favorite" items of the residents:
"Fun" size candy bars (not mini)

Cans of Pop (can be the mini size, but don't have to be)

Snack-packs of any type (like what you would give to a sports team – cookies, crackers, chips, etc.)

Travel-size lotions and hand sanitizer (mostly lotion) and holders for the bottles

Beanie Babies and Mini Beanie Babies (can be used if in good condition – residents like to give these to their family members as gifts)

Small stuffed animals or baby dolls (can be used if in good condition)

Crossword Puzzles or Word Search books

Any fun items that YOU would want to win at BINGO!
With Black Friday coming up, I wanted to get this information out to you prior to this weekend so that you could do some inexpensive shopping should you and your student choose to participate.  Last year I took two FULL car loads to Maple Park Village and the staff was SO overwhelmed with our generosity.  I know many of us are pulled in many directions at the holiday season, but if you do not have another family or child that you are adopting, consider adopting a resident!
0
Mother Sings to Emotional Baby
If you haven't ever seen this video, it is a "must watch" (and I am not saying that just because I am pregnant)!  The baby girl's face is just too sweet when she listens to her mother's singing.
Kid President's "Things We Should Say More Often"
Our first period choir class took a look at this during iRock this week and created our own lists of things we should say more often.  A few student responses not on this video:
"I'm proud of you."
"How can I help you?"
"Nice to meet you."
"My pleasure."
"I love you."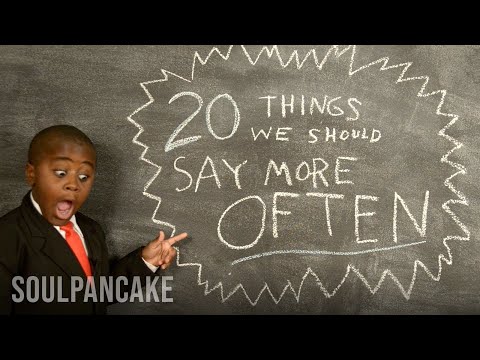 I would give each of my students corn dogs if I could!  If you don't understand this, you didn't watch the video.
Life = Risk
wmsmusic's RSS Feed